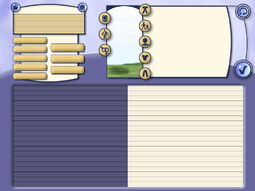 Characters, referred to in-game as Golfers, are the main purpose of the game, aside from building your golf courses. Characters are supposed to be pleased, and if you are able to delight them, your course rating will go up. Unhappy characters have been known to wrap their golf clubs around a tree, or even punch another golfer in the nose! Characters come with a set of prewritten phrases, but all of them can be customized. The customizing program goes a step further and allows you to change their personality by clicking on different buttons. To customize a character, simply click on him or her and click the edit button.
Ad blocker interference detected!
Wikia is a free-to-use site that makes money from advertising. We have a modified experience for viewers using ad blockers

Wikia is not accessible if you've made further modifications. Remove the custom ad blocker rule(s) and the page will load as expected.